'I love heights and I also love working with machines' - Profile of Niall McBride, Wind Turbine Technician Apprentice
08 Sep 2023
Niall McBride, a 22-year-old from Castlefin, Co Donegal, followed his love for heights and machines into a Wind Turbine Maintenance Technician Apprenticeship at Kerry College. In an interview with Independent.ie, he shared how he discovered his career path as a Wind Turbine Technician through his apprenticeship at Kerry College.
Building tree houses when he was a boy was probably an early indication that Niall McBride's future career would scale heights. "For me, the higher the better," says the 22-year-old from Castlefin, Co Donegal. He found the perfect way to combine that with his passion for machines – training to be a wind turbine technician. Approaching his Leaving Cert in St Columba's College, Stranorlar, Niall hadn't a plan figured out. "College was always the route I was pushed towards," he said.
He did consider being a dentist but didn't get the necessary points. Instead, he studied dental nursing in the then Letterkenny IT and worked for about a year and a half before Covid changed everything. At that stage, "cars were my biggest hobby, fixing them, buying them, selling them. I am mad into cars and during Covid I got more time to do what I liked". He started hearing stories about people working on wind turbines and, living in Donegal, they were a familiar sight. "Friends were posting videos of working on them. I thought, 'that is exactly what I want to do, working at heights and working on machines."
Niall started looking for opportunities and came across the new wind turbine apprenticeship in Kerry College, Tralee. He was one of the first to sign up to it last autumn, following an application process that includes an 18-metre height test. "That was easy, I was glad to do it," he says. Since then, he has gone much higher. The three-year, earn-as-you-learn course blends periods in college with work placements and leads to a Level 6 qualification. Like all apprenticeships, the start point is securing employment, and Niall got a job with wind energy company Nordex. After a week it was down to Kerry for five months before returning for seven months of on-the-job training in Donegal and Mayo. "I'm really enjoying it," said Niall, who returns to college in the autumn. "For me, it's about heights and machines. I wish everyone could experience the view when you're up high in the morning time and the sun is shining. Friends say, 'you're mental' but it's unreal. "I like it because it's so different, and I like being on the edge. That's the reason I went for it, and I'm working in renewable energy, an industry of the future. That was important, it meant I have a job I can travel with. I get paid as well, paid to learn."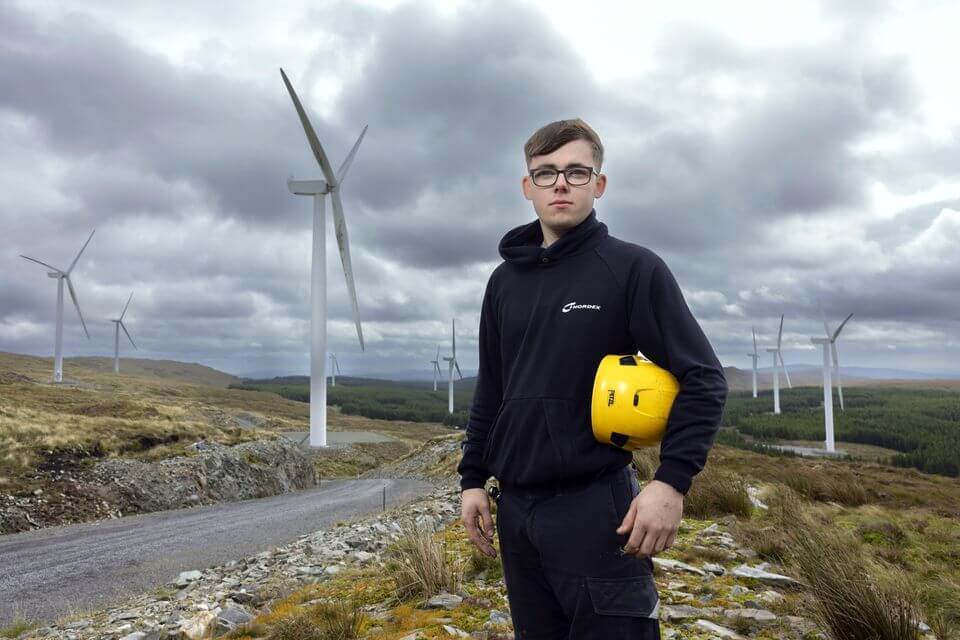 Image: Nial McBride at a wind turbine training facility
Niall McBride's journey from an aspiring treehouse builder to Wind Turbine Maintenance Technician Apprentice perfectly represents the opportunities provided by the three-year apprenticeship program, which contributes to the growth of Ireland's Renewable Energy sector and equips learners with the skills needed for a sustainable future.
The three year apprenticeship at Kerry College offers individuals a chance to build a rewarding career in the growing Irish Renewable Energy sector. Developed by industry experts and the Kerry Education and Training Board, it equips learners with practical skills and knowledge to excel in their workplaces.
Throughout the apprenticeship, candidates complete seven stages of training. Four "off-the-job" stages happen at Kerry College's advanced wind turbine training facility in Tralee, while the other three are "on-the-job" training with employers. This model allows apprentices to earn a wage right from the start.
To qualify, candidates must be at least 18 years old, have a Level 4 qualification (or equivalent) or three years of related work experience, demonstrate proficiency in math (Level 3), and possess a B2 level of English proficiency where applicable.
Kerry College will welcome its next group of WTMT apprentices in October, offering an excellent opportunity to learn and earn in the renewable energy field.
Interested candidates can learn more about the program by visiting the Kerry College website.