New August record set for electricity generated by wind
06 Sep 2023
Wind generation in Ireland hit a new record for an August month according to Wind Energy Ireland, which today published its monthly wind energy report. The amount of electricity generated by wind in August 2023 was up by 71 per cent when compared with August 2022.
Strong winds throughout last month led to a second consecutive month of records in wind power generation in Ireland, with both July and August surpassing previous monthly records. Meanwhile, the average wholesale price of electricity in Ireland per megawatt-hour during August 2023 was €106.46, down 72 per cent from €387.63 in August 2022.
The latest figures mean that Irish wind farms provided 32 per cent of the island's electricity over the first eight months of 2023.
Prices on days with the most wind power saw the average cost of a megawatt-hour of electricity decrease by five per cent to €88.34 when compared with July, rising to €123.07 on days when we relied almost entirely on fossil fuels.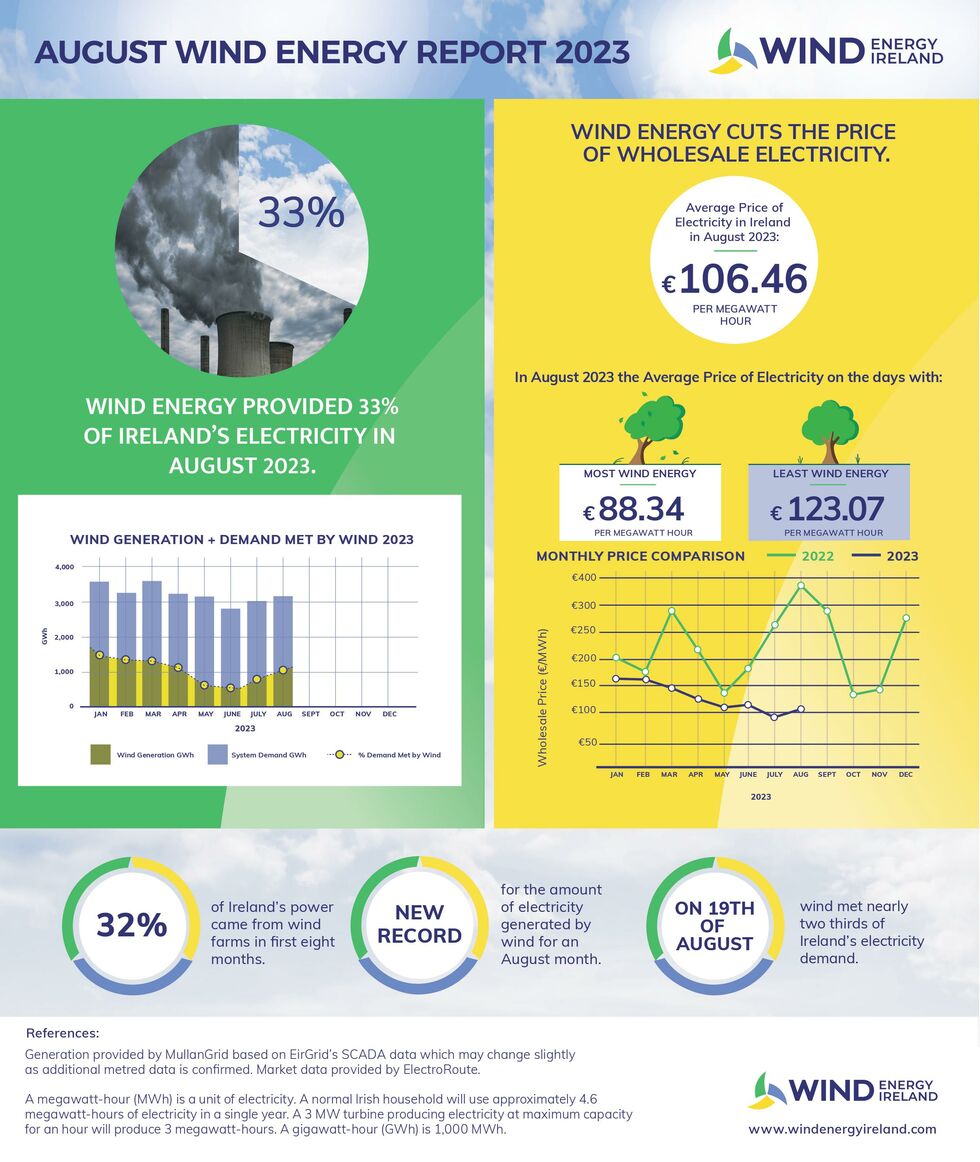 Noel Cunniffe, CEO of Wind Energy Ireland, said: "Our members provided 33 per cent of Ireland's electricity in August and the amount of wind generated was up by 71 per cent when compared to the same month last year.
"That is Irish generators producing power without burning imported fossil fuels, which means we can cut our carbon emissions at the same time as we cut our fuel imports."
Noel Cunniffe continued: "Affordability is really important as well as reducing our reliance on fossil fuels. The continued annual fall in wholesale electricity prices is welcome news and we are gradually starting to see these price reductions being passed onto consumers in their energy bills.
"While prices have come down a lot since last year they are still more than the average wholesale price of electricity before the fossil fuel energy crisis begun. If we can keep pushing wholesale prices down, we would hope that we will continue to see a positive impact on consumers bills."
Noel Cunniffe concluded: "The quicker we can build wind farms, the sooner we can rely on Irish renewable energy to provide our electricity. We know that not a single onshore wind farm has received planning permission from An Bord Pleanála in the last 12 months. This is a blueprint for failure.
"That is why we are calling on the Government to invest greater resources in our planning system as part of the Budget in October. Without this vital investment, we will fail to grow the amount of indigenous energy we produce, fail to continue decreasing wholesale electricity prices, and put at risk our ability to reach our legally binding climate targets."
Wind Energy Ireland's report also found that on the 19 August, Irish wind farms met nearly two thirds of Ireland's electricity demand for that day.
The results of this report are based on EirGrid's SCADA data compiled by MullanGrid and on market data provided by ElectroRoute.