Irish wind farms provided 36% of our electricity in March
04 Apr 2023
More than a third of Ireland's power came from wind farms last month with the country's main renewable energy source meeting 40 per cent of electricity demand over the first three months of 2023. Prices on the wholesale electricity market continued their gradual fall, helped by Irish wind farms, for the third consecutive month.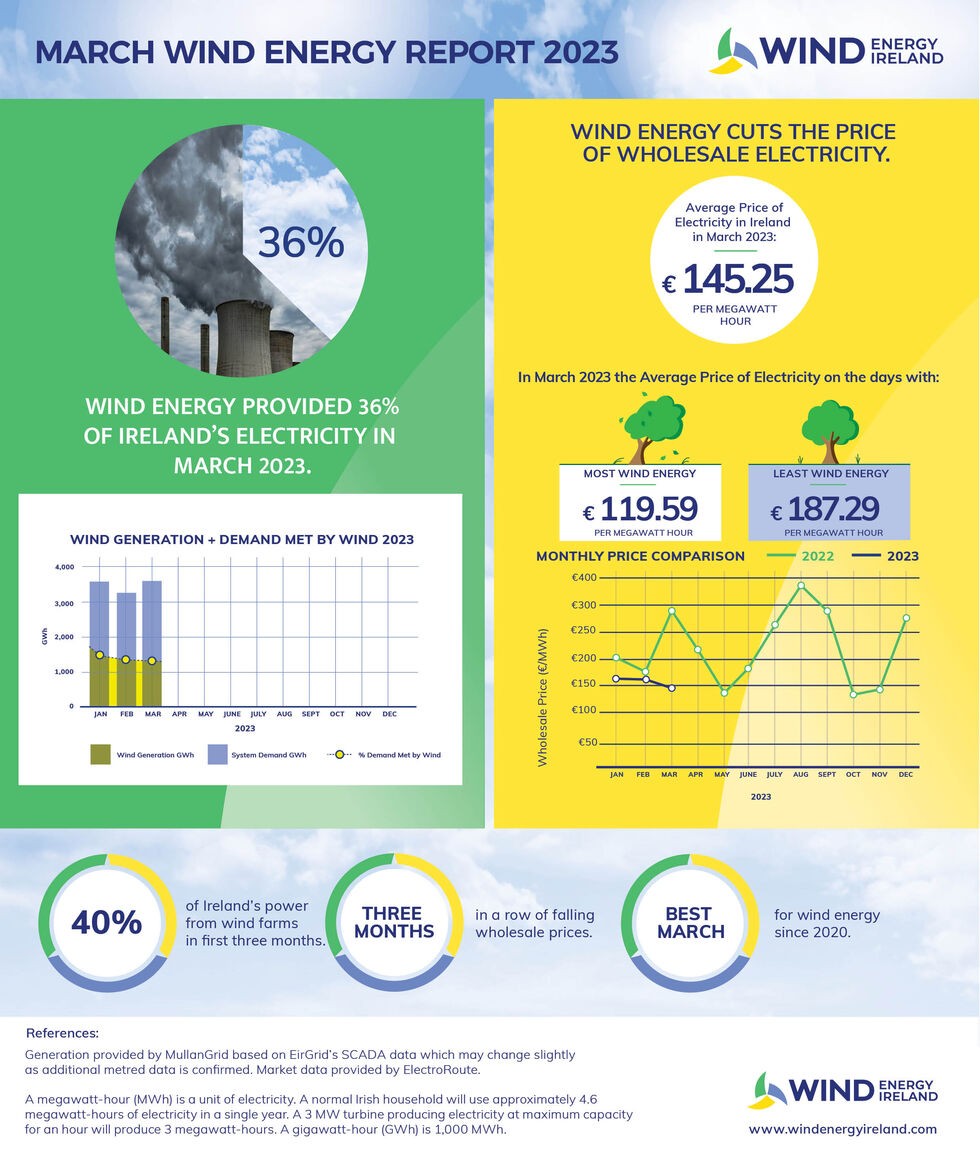 The amount of electricity produced by wind energy last month was up 12 per cent against March 2022 while the share of demand met rose from 33 per cent to 36 per cent as demand for power continued to rise.
Noel Cunniffe, CEO of Wind Energy Ireland, said: "Irish wind farms are helping to cut our carbon emissions and to insulate families and businesses from the worst effects of the fossil fuel energy crisis.
"Every time a wind turbine is generating electricity it is reducing our reliance on imported fossil fuels, supporting Irish jobs and helping to push down wholesale electricity prices. The faster we can build and connect new wind farms, the cleaner and cheaper we make Ireland's electricity supply."
The organisation highlighted again that the country's planning system remains the main barrier to the rapid development of renewable energy.
Noel Cunniffe continued: "We have fantastic projects queued up in An Bord Pleanála waiting for decisions. We cannot build the wind farms we need to make this country energy independent with a planning system that is simply not up to the job.
"The reforms the Government is bringing forward to the planning system could certainly help but the key issue remains resources. There simply are not enough people with the right skills in agencies like An Bord Pleanála, the National Parks & Wildlife Service and the local authorities.
"This year's budget will really be the last chance to provide the funds which are so desperately needed to enable projects to clear the planning system in time to be built for 2030. It needs to be a top priority for Government."
Prices falling slowly
The average wholesale price of electricity fell in March, for the third straight month, to €145.25, continuing a gradual drop in prices since the start of the year, but still more than double average prices before the fossil fuel energy crisis.
Prices fell even further on days with the most wind power when the average cost of a megawatt-hour of electricity was €119.59, rising to €187.29 on days when we had to rely almost entirely on fossil fuels.
Noel Cunniffe, CEO of Wind Energy Ireland, said: "Irish families, communities and businesses will remain at the mercy of fossil fuel industry prices so long as we are forced to rely so much on gas for our electricity.
"The quicker we can build wind farms, the faster we can reinforce the electricity grid, the more Irish renewable energy will help consumers."
The results of this report are based on EirGrid's SCADA data compiled by MullanGrid and on market data provided by ElectroRoute.
ENDS
Note: A megawatt-hour (MWh) is a unit of electricity. A normal Irish household will use approximately 4.6 megawatt-hours of electricity in a single year. A 3 MW turbine producing electricity at maximum capacity for an hour will produce 3 megawatt-hours. A gigawatt-hour (GWh) is 1,000 MWh.