Historic first quarter for Irish wind energy
18 Jun 2020
Records broken as wind beats gas over first three months of 2020.
The Irish Wind Energy Association today published its quarterly report for quarter one of 2020, covering January, February and March of this year. The figures show wind provided almost half of Ireland's power in the first quarter and, for the first time, beat gas into second place as Ireland's main source of electricity. Four new wind farms, with a combined capacity of 81 MW, were connected.
Dr David Connolly, CEO of the Irish Wind Energy Association, said: "Every quarter seems to bring a new success story for the Irish wind energy industry. For the first three months of 2020 we were Ireland's primary source of electricity and a new record was again set for the most wind energy - 4,249 MW - on the transmission system at the same time.
"Wind energy is an Irish success story. Every day it is driving down electricity costs for consumers, cutting CO2 emissions and guaranteeing this country real energy independence."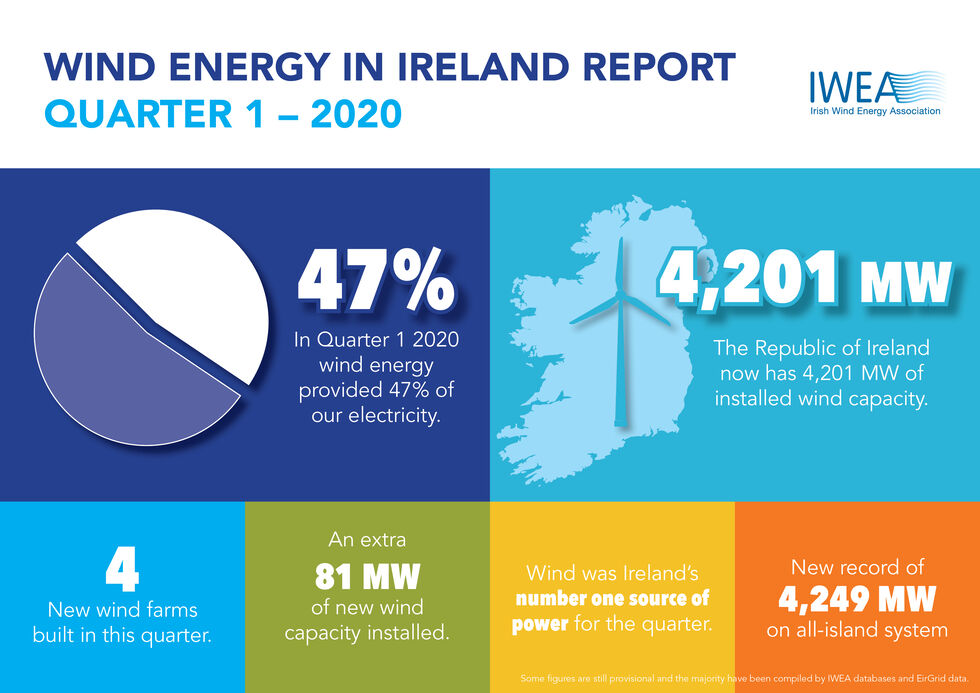 New wind farms
Ireland's wind fleet continues to grow with four new wind farms completed in this quarter, bringing another 81 MW of renewable energy capacity online. The future pipeline is also growing with a new wind farm getting planning permission and several more beginning that process.
Dr Connolly continued: "We are now exactly 4,000 MW short of our 2030 target for 8.2 GW of onshore wind. Hitting this target is critical if we are to provide 70 per cent of Ireland's power from renewable energy.
"It is essential that we keep up the momentum in the coming months as we continue to build new onshore wind farms and move ahead with planning for Ireland's first offshore wind farms in 20 years."
The 47 per cent share of electricity demand for quarter one amounted to 3.71 million MWh of electricity, compared to 2.8 million MWh in the first quarter of 2019. The average Irish household uses approximately 4.6 MWh of electricity every year.
The total installed capacity of Ireland's wind farms has now risen to 4,201 MW.
Key statistics
Wind energy's share of electricity demand: 47% – up from 37% in Q1 2020
Total amount of electricity generated by wind in Q1 2020: 3,711,800 MWh – up from 2,827,067 MWh in Q1 2020.
Total installed wind energy capacity at end of Q1 2020: 4,201 MW.
Total new capacity installed: 81 MW.
Number of new wind farms built: 4.
Number of new wind farms to get planning permission in the first three months of 2020: 1 with a total capacity of between 16.5 and 21 MW.
Amount of wind energy dispatched down in Q1 2020: 455,654 MWh
Background
The figures in the IWEA Quarterly Report are based on data provided by EirGrid, ESB Networks, the SEAI and our own members. Some figures are provisional and may change as new data comes in.
A megawatt (MW) is a unit of power. A single megawatt is equivalent to around 1,000 kilowatts. Boiling a kettle, for example, takes around two kilowatts.
A megawatt-hour (MWh) is a unit of energy. It is normally used to refer to the amount of electricity generated or consumed. A standard Irish household would use around 4.6 MWh every year.
Wind energy is 'dispatched down' when wind farms are instructed by EirGrid, as the system operator, to stop generating electricity.
This is typically done due to constraints on the electricity network – the transmission system is physically unable to carry more electricity from where it is being generated to where it is needed – or to ensure system stability.