Wind energy monthly report – 24% of Ireland's power provided in September
06 Oct 2022
Wind Energy Ireland has released its September Wind Energy report, which shows that wind energy provided 24 per cent of Ireland's electricity in September 2022.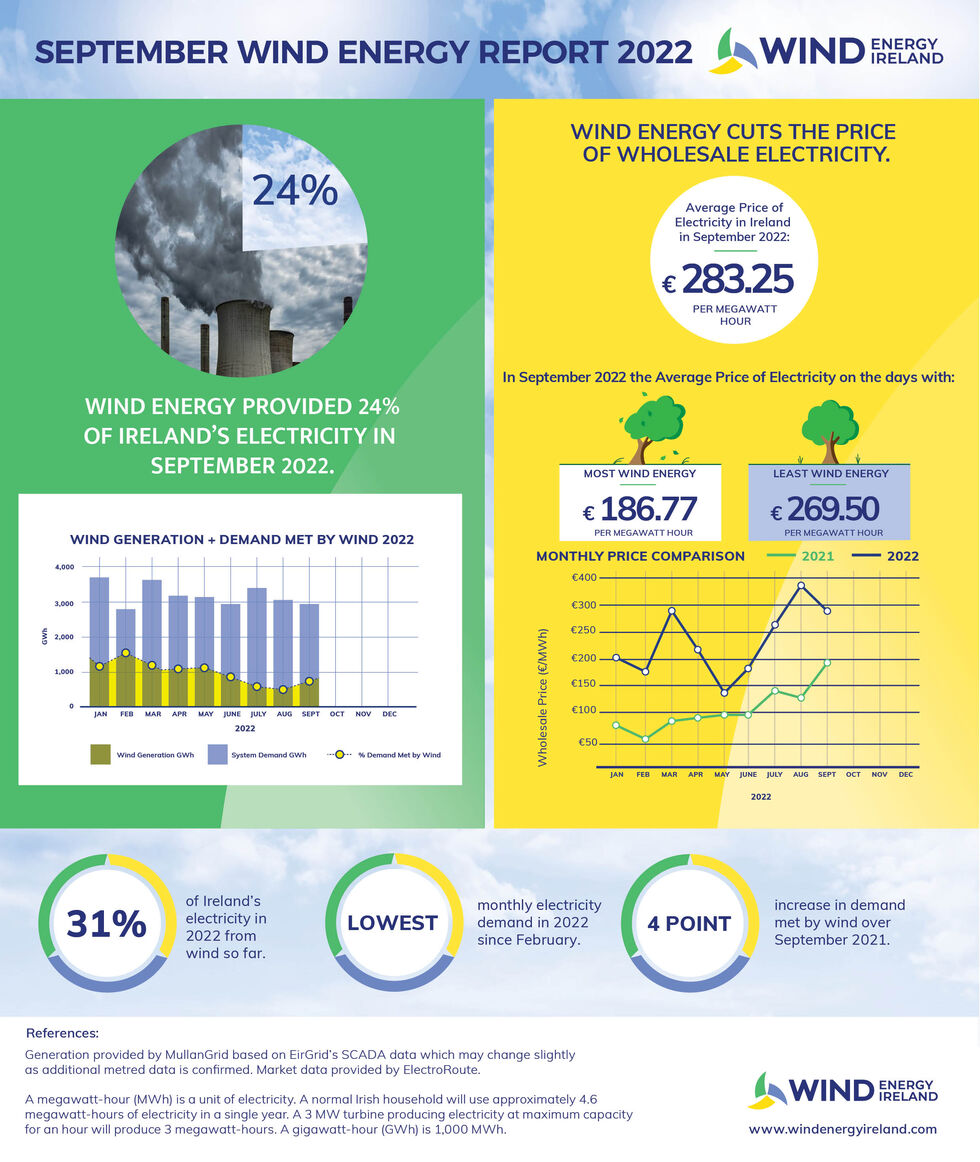 The latest figures mean that wind energy has supplied 31 per cent of Ireland's electricity demand this year to the end of September.
Compared to September 2021 wind energy's share of demand this month was four points higher and the volume of electricity produced by wind was up 12 per cent.
The report also highlights again how wind energy pushes electricity prices down and helps to insulate Irish families and businesses from rising fossil fuel prices.
Noel Cunniffe, CEO of Wind Energy Ireland said: "Wind energy has provided nearly a third of Ireland's electricity so far this year and we are confident that will increase over the months to come. Wind has already provided more than 45 per cent of the country's power in the first week of October.
"In the middle of the worst energy crisis we have faced in 50 years it is Ireland's wind turbines that are shielding our communities from the worst effects of a crisis caused entirely by our reliance on the fossil fuels that are driving the climate emergency."
Price of electricity
After three consecutive months of rising average wholesale electricity prices there was a small drop this month with the average price of a megawatt-hour of electricity in September coming in at €283.25, compared to the August figure of €387.63, which is the highest monthly figure so far this year.
International volatility in the price of international gas, as well as additional wind power, contributed to the fall in wholesale prices. Unusually, the price of electricity across the three days with the least wind energy was below the monthly average which shows the volatility of the fossil fuel prices.
The price on the days with the most wind was almost €100 lower per unit of electricity than the monthly average.
Noel Cunniffe continued: "There was a welcome drop in the wholesale price of electricity in September but it is still the third highest monthly average so far in 2022 and significantly higher than we were seeing before the fossil fuel energy crisis.
"Our families, communities and businesses will continue to be vulnerable to extreme electricity prices while we rely on imported fossil fuels to generate our electricity. The more renewable energy we can connect, the more secure we make Ireland's energy supply and the greater protection we have from international markets.
"The development of renewable energy, and the grid infrastructure and planning reform required to deliver it, must accelerate."
Total electricity demand in September 2022 was 2,936 gigawatt-hours (GWh) of power and wind energy generated 716 GWh. Demand in September 2021 was 3,078 GWh and wind produced 639 GWh that month.
The results of this report are based on EirGrid's SCADA data compiled by MullanGrid and on market data provided by ElectroRoute. This is the ninth in what will be a continuing series of monthly reports from Wind Energy Ireland. This series will play an important role in progressing the development of wind energy as an energy source in Ireland.
ENDS
Note: A megawatt-hour (MWh) is a unit of electricity. A normal Irish household will use approximately 4.6 megawatt-hours of electricity in a single year. A 3 MW turbine producing electricity at maximum capacity for an hour will produce 3 megawatt-hours. A gigawatt-hour (GWh) is 1,000 MWh.