Wind energy monthly report – 34% of Ireland's power provided in May
07 Jun 2022
Strongest May on record for wind energy in Ireland
Wind Energy Ireland has released its May Wind Energy report, which shows that wind energy provided 34 per cent of Ireland's electricity in May 2022, up 9 per cent on May 2021.
This was the most power ever generated by wind in the month of May and over the first five months of 2022 wind has provided 37 per cent of Ireland's electricity.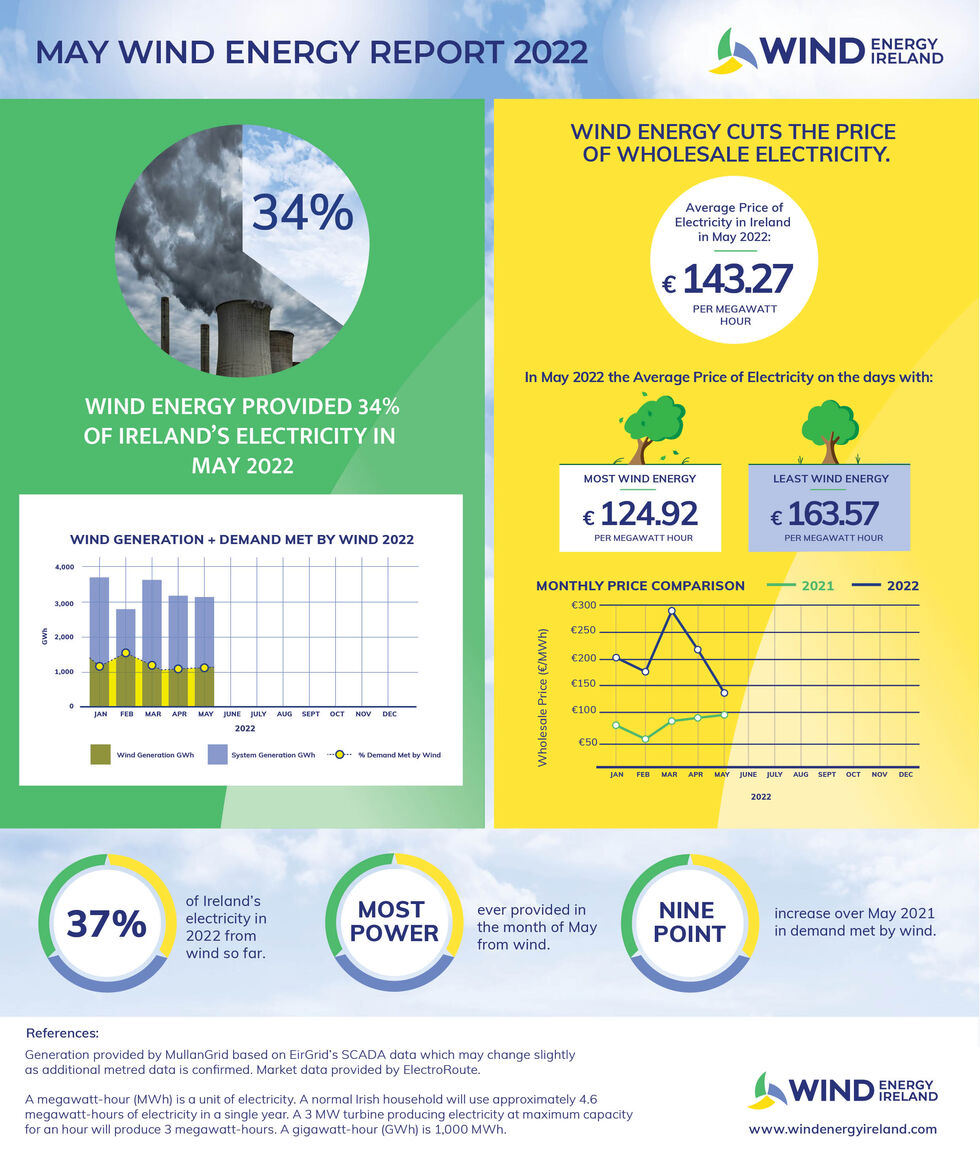 Prices on the wholesale electricity market fell significantly to an average of €143.27 but market analysts believe this was likely a temporary fall due to a combination of an over supply of gas in Britain, lower than expected demand and better renewable energy performance.
Noel Cunniffe, CEO of Wind Energy Ireland, said: "Irish wind farms have delivered enormous amounts of clean energy over the first five months of the year, cutting our carbon emissions and helping to insulate Irish consumers from our dependence on expensive imported gas.
"We expect to see new wind farms connected before the end of 2022 and with solar farms connecting to the grid this year for the first time too, the two technologies will increasingly be able to work together to push fossil fuels off the Irish electricity system."
Planning delays
However, the organisation warned that delays in the planning system are slowing the rate of connection of new wind farms. Although An Bord Pleanála has a statutory timeframe to decide applications from wind energy projects in 18 weeks the average time for a decision is over a year.
Noel Cunniffe said: "Our planning system must be urgently reformed and properly resourced to ensure that the renewable energy projects needed to cut our carbon emissions and drive down electricity bills can get built as quickly as possible."
The results of this report are based on EirGrid's SCADA data compiled by MullanGrid and on market data provided by ElectroRoute. This is the fifth in what will be a continuing series of monthly reports from Wind Energy Ireland. This series will play an important role in progressing the development of wind energy as an energy source in Ireland.
ENDS
Note: A megawatt-hour (MWh) is a unit of electricity. A normal Irish household will use approximately 4.6 megawatt-hours of electricity in a single year. A 3 MW turbine producing electricity at maximum capacity for an hour will produce 3 megawatt-hours. A gigawatt-hour (GWh) is 1,000 MWh.