Wind supplies 33% of power in March as gas pushes prices to record high
06 Apr 2022
Wind Energy Ireland has released its March Wind Energy report, which showed that wind energy provided 33 per cent of Ireland's electricity in March 2022.
However, Ireland's dependence on imported fossil fuels for much of our electricity drove wholesale prices to the highest monthly average since the Integrated Single Electricity Market was set up in 2018.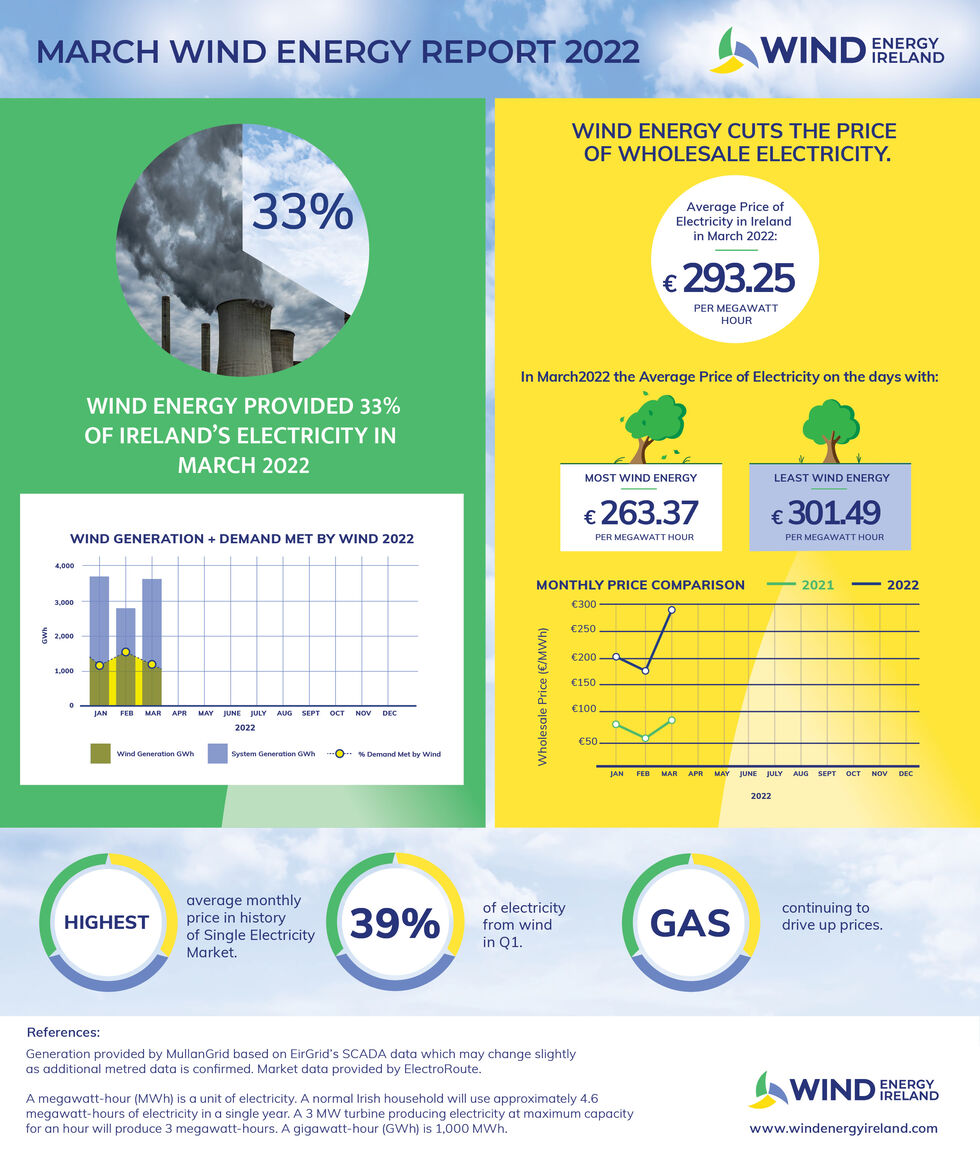 While wind energy was able to help push prices down, the combination of high demand and rising gas prices puts more pressure on electricity consumers.
The average wholesale price of electricity in March was €293.25, more than four times the price in March 2021. However, prices in March on the days with most wind energy were more than 10 per cent lower than days with little wind.
Noel Cunniffe, CEO of Wind Energy Ireland, said: "Wind energy cuts our carbon emissions and is helping to reduce the impact of sky-high gas prices on the bills of Irish consumers.
"The faster we build new wind and solar farms, the sooner we can end our reliance on imported fossil fuels. We can become energy independent and, critically, drive down prices for consumers. The price increases we are seeing in our bills today are largely due to the Russian gas industry's control over Europe's gas supply.
"The findings of latest IPCC report and the growing calls from Europe for quicker development of renewable energy must be heard in Government buildings.
"We cannot decarbonise our electricity system and make Ireland energy independent without wind farms. We cannot build wind farms if we cannot get planning permission. And we cannot get them through the bottleneck of the planning system without proper investment in key State agencies like An Bord Pleanála, the National Parks and Wildlife Service and other key environmental stakeholders."
The results of this report are based on EirGrid's SCADA data compiled by MullanGrid and on market data provided by ElectroRoute. This is the second in what will be a continuing series of monthly reports from Wind Energy Ireland. This series will play an important role in progressing the development of wind energy as an energy source in Ireland.
ENDS
Note: A megawatt-hour (MWh) is a unit of electricity. A normal Irish household will use approximately 4.6 megawatt-hours of electricity in a single year. A 3 MW turbine producing electricity at maximum capacity for an hour will produce 3 megawatt-hours. A gigawatt-hour (GWh) is 1,000 MWh.